juggling between diapers, aprons and a scale ruler
Thursday, October 20, 2011
Created with PhotoShake
Posted by

ZOORA
at 8:16 PM
No comments:
Links to this post

Saturday, October 1, 2011
I have a new crossbody handbag. And its white!! I never had or rarely have white in my wardrobe so this time around i panicked!! Lols!! Thot the bag is too plain white
(surely its not plain, i know...over reacted)
(not realy fancy the gold chain tho) but the bag is so cute to carry and comfy too. Just the right size i want with the price i can afford-let say for the moment. Hahahahah ( i promise will do some saving to get what i want)
So here is: i want to decorate the bag. As shaferlicious said; as in renovation, lols
I was thinking scarf; but scarf maybe too big for it ... Unless a soft silky chiffon scarf ( oh please not gucci or lv scarf ok)
I wish i could find pretty handbag charm (thats too common)
I am targetting pearls!! I love pearls!! Or somekind of hangin embelishment or pendant!!
Pearl mcm ni cute kan?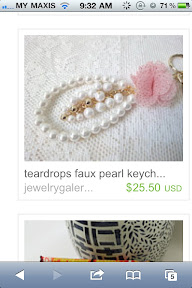 Silky chiffon. So nice this salmin color. I likeeee
And this is so cool! Glass tile pendant???? How nice
Hmm we'll see what u can get. Hmm tetiba rasa nak pergi the curve fleamarket. Lols
- Posted using BlogPress from my iPhone
Posted by

ZOORA
at 9:50 AM
No comments:
Links to this post